First impressions are crucial, especially in the real estate industry: It's known as curb appeal. If the outside of a house is decrepit or unsightly, or the porch decor is lacking, buyers may be less likely to look inside. Even if the inside is gorgeous, a home with poor curb appeal will make guests and potential buyers feel unwelcome.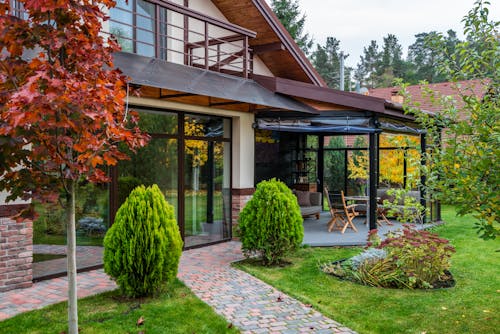 You need color and contrast, balance, and good old-fashioned TLC.
Paint your front door
The front door should invite a buyer in. A fresh coat of paint on your front door isn't required, but it can make the exterior look bright and clean. Allow your front door to reflect the style of your home.
Ask your neighborhood if there are rules regarding colors. Make sure to also check in with your real estate agent if there are any restrictions and what might be the best color for your front door.
Improve pathways and steps
Pathways and steps play a significant role in the aesthetic and safety of your home. Cracked or uneven pavement, missing brick pavers, broken steps, steep stairs, and missing or damaged railings are the main issues to watch out for.
Broken pavement and stairwells are two of the most visible signs of degradation. You'll want to get this taken care of as soon as possible.
Uplight parts of your front yard
Lighting is an essential component of any outdoor living environment. Guests are greeted with good lighting. Lighting is also important for a home's security. It helps to deter theft by illuminating the landscaping and pathways at night.
Replace any outdated light bulbs, wipe up any cobwebs, and replace any broken lights.
Add potted plants
Plants can provide life to a room and make it appear more lived-in and well-maintained.
Give garage door a lift
Garage doors are generally the most prominent feature of the street, yet they lack the detail and depth of the rest of the house. Temporary or magnetic decorative hardware, such as handles, hasps, and false window panels, is a quick fix that takes no commitment (and nearly no effort).
Garage doors can also be painted, and a change from the standard white can make a big difference. If you want your garage to fit in with your siding, paint it the same color as your front door.
Replace mailbox and update your street number